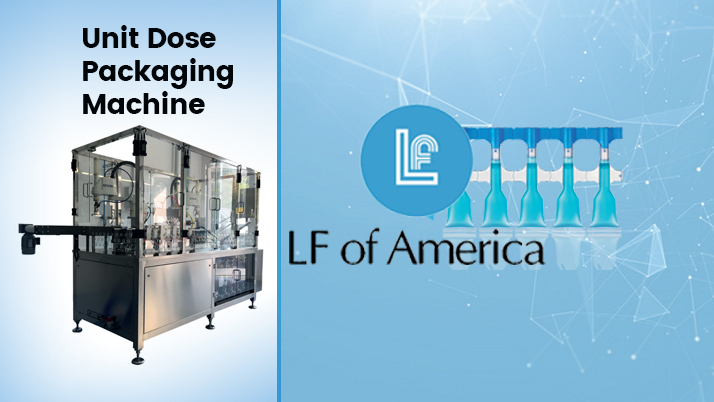 Our unit dose packaging machine is capable of filling, sealing, and packing liquids for a variety of different industries. We provide our contract packaging services for orders small and large and are able to create custom packaging in our patented unit dose delivery systems.  Being part of the Internationally renowned Lameplast Group enables us to assist companies worldwide. Continue reading to find out exactly how our unit dose packaging machine works and what it is capable of. There are also a few videos included below to show our unit dose packaging machine in action, along with an example of our custom contract liquid packaging services. For a more investigative look into who we are and what we do, please visit our website. You can access it by following the link provided here: LF of America.
Unit Dose Packaging Machine | Contract Filling & Packaging
To fulfill our different contract filling and contract packaging requests, we utilize state of the art equipment, including our unit dose packaging machine. The unit dose packaging machines in our facilities are housed in a cleanroom within our FDA-registered facility. To maintain this registration, we adhere to the regulations of Class 100,000 Standards.
Our latest filling and sealing unit dose packaging machine is named the PentaFill A25. Its impressive capabilities include filling as many as 125 vials between the sizes of 0.33-1.0 ml per minute and 115 vials between the sizes of 2.0-10.0 ml per minute. As such, this efficiency is top of the market and perfect for preparing large distribution orders.
For smaller orders, we utilize a similar, comparable machine named the PentaFill A10. If you are interested in watching how either of these unit dose packaging machines work, take a look at the PentaFill A10 fill and seal machine in action below:

Unit Dose Packaging Machine | Custom Packaging
One of the greatest innovations we provided to the unit dose packaging market is the incorporation of turnkey model packages. Our clients have the ability to develop their very own custom unit dose packaging systems that come in the color and size of their choice. Clients can also choose to add their logo or custom text to the packages if they wish. Take a look at some of these custom unit dose packages in the video below:


Additionally, we are capable of using your own packages if you are more concerned with brand recognition. Most packages are compatible with our machines and we would be happy to help you fulfill orders for cosmetic, OTC, pharmaceutical, and health and beauty products.
Unit Dose Packaging Machine | More Information
LF of America provides a contract filling, sealing, and contract packaging for most liquid products. We have been operating in our respective industry for over four decades and gladly provide a sample product for interested companies. Please CONTACT US to find out how you can send in a small amount of your product to receive a free sample and visit our website for more information.
Unit Dose Packaging Machine