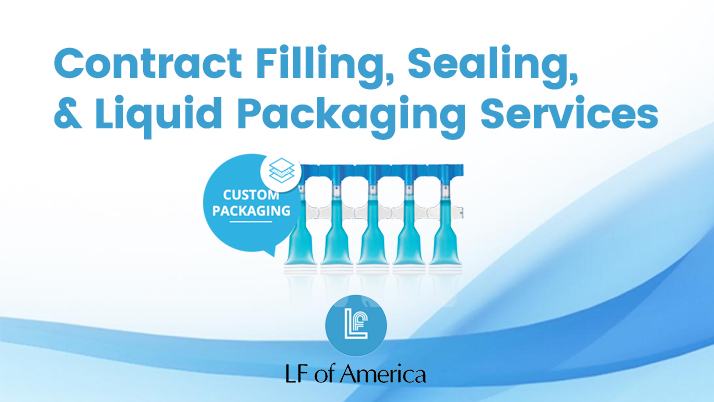 Finding the best way to distribute your product should not be difficult. There is no reason you should spend more time figuring out your packaging after you have perfected your product's formula. This is what contract filling and contract packaging services are for. When you are ready for your product to be on the market a contract filling and contract packaging company can provide you the tools to get your product on the shelves as fast as possible. If you want your product handled by a competent, reputable contract filling and packaging company then your best choice is LF of America. We provide a complete contract filling and contract packing service for all types of liquids. To find out more about our contract filling services or to read more about who we are visit our website at the link provided here: LF of America.
There really is no longer a reason to employ multiple companies to get your product ready for distribution. Especially not when you have the option to have your product completely packaged in one place. That convenience is precisely what we offer for you at LF of America. By performing all of our contract filling and contract packaging services in our facility we have become the leading packaging company for a number of different industries. We perform our liquid packaging services for a variety of different OTC pharmaceutical, health and beauty, and industrial companies.
To complement our contract filling and contract packaging services we also help our clients create unique package designs. We work with you by choosing the right color, size, and design that is best suited for your product. We are also able to add a custom label with any text you want on your package. Additionally, we can add logos or images by hot stamping or by embossing the vials.
Each of your products comes in a unit-dose ampoule made up of five strips. Our turn-key design even makes it possible to provide a re-closable option, if you prefer. The strips can also be customized to your liking, meaning they can be uniform or vary from vial to vial. Here is a video that shows you examples of packages we have created for our contract filling services.
Don't fret if you have already settled on a package design. Our contract filling and sealing machines are capable of handling any of your designs as well. We understand the importance of product recognition and will gladly provide our contract filling and contract packaging services for any company that already has settled on a package design.
Our contract filling and contract packaging services are done with the most innovative machines available. We have state of the art equipment capable of fulfilling both small and large orders. The machines are capable of filling as many as twenty-five vials per minutes for package sizes that are 0.33 – 1 ml. And the machines can fill as many as twenty-three vials per minute for package sizes that are 2 – 10 ml. This is the most efficient output available in the liquid packaging industry.
CONTACT US to find out how to send in a small amount of your product so that we can provide you with a free package sample or if you have any additional questions.
Contract Filling