Contract filling machines using injection molding technology combined with the blow, fill, and seal process give users many added benefits. The best contract packaging companies use the flexibility and efficiency of these automated packaging systems to their advantage. They are more user-friendly, more compact, and minimize potential heat risks to products during the filling process. Best of all, they can be utilized for both small batch and full production size orders, all at the same or better rate than traditional BFS machines. Learn more about our contract filling machines (Pentafill Machines) by reviewing some of their highlighted features in the comparative chart below. And be sure to watch the video provided to see our Pentafill contract filling machines in action yourself.
---
Pentafill Contract Filling Machines (Injection Molding Technology + BFS)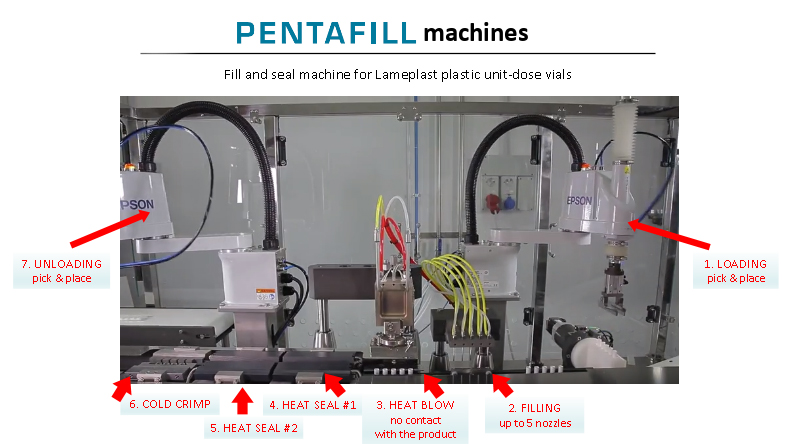 Two-step process which first molds vials then transfers them to be filled and heat sealed, eliminating the potential risk of contact between product and heat.

Flexible production options ranging from as few as 1500 vials per hour to as many as 15,000 vials per hour.

Smaller dimension sizes make Pentafill machines easily adaptable and capable of moving into already established filling areas.

Easy to switch out old and worn parts. Increased user functionality and improved end-user experience.

Half of the cost of typical BFS contract filling machines while maintaining the same capacity for high production.

Completely eliminates excessive plastic materials otherwise wasted and is the more environmentally friendly system.

Added options for multilayer packaging designs and calibrated drops for pharmaceutical products and more.
Blow Fill Seal (BFS) Contract Filling Machines
Single process that blows and fills vials at the same time, adding an unnecessary risk of contact between product and heat.

Limited full-scale production size option of up to 10,000 vials per hour that runs continually, making three working shifts a necessity once the machine starts and the process has begun.

Larger dimension sizes make BFS machines bulky and difficult to maneuver into existing filling areas measuring less than 600 square feet.

Necessary mold changes halt the filling process and increase overall production time.

Higher initial investment cost that is commonly as much as 2x the standard price of our superior Pentafill machines.

Plastic waste must be cut from the parison and the large amount of waste must be handled and disposed of properly to minimize environmental impact.

Highly complex methods for initial set up or routine maintenance and operating instructions that require trained personnel for proper use.
---
LF of America is the US-based partner of the industry-leading European-based Lameplast Group. Our South Florida facility includes an FDA-registered ISO-standard cleanroom and state of the art packaging machines and manufacturing equipment. Together we provide clients worldwide a variety of different contract filling, contract packaging, and custom packaging manufacturing services. We also manufacture our very own Pentafill contract filling machines for companies looking for their own automated filling, sealing, and packaging system. Call us at 561-988-0303 to receive immediate assistance or Contact Us by email for more general information.
Contract Filling Machines